THE


UNIVERSITY


THE WORLD
NEEDS
nīkānītān manācihitowinihk
ni manachīhitoonaan
A
BOLD


NEW DIRECTION
FOR THE U OF S

Based on three strong commitments and 12 courageous goals, the University Plan is a forward-thinking, strategic document that guides our aspirations for the next seven years to 2025. In the summer of 2018, the Indigenous community gifted a name to the plan; nīkānītān manācihitowinihk in Cree and ni manachīhitoonaan in Michif which translates as "Let us lead with respect." 
COMMITMENT #1
Empower a daring culture of innovation with the courage to confront humanity's greatest challenges and opportunities.
COMMITMENT #2
Invigorate the impact of collaboration and partnership in everything we do.
COMMITMENT #3
Inspire the world by achieving meaningful change with and for our communities.
To be the university the world needs is a bold ambition. It will require us to be very disciplined about tracking our progress against the five areas of impact to which we aspire: Transformative Decolonization Leading to Reconciliation, Productive Collaboration, Meaningful Impact, Distinguished Learners, Global Recognition.
OUR STRATEGIC FRAMEWORK
"THE WEAVE"
The symbolism of our strategic framework as a tightly woven belt of fabric is highly intentional. Our strategy is at once strong and flexible—resilient in an era of global urgency and unprecedented social and technological change. Our strategy is multidimensional, true to the complexities and contradictions that inspire the creativity and generosity of great institutions. And our strategy is highly integrated, tying together our university's legacy, spirit, and future into a singular description of who we are and aspire to become.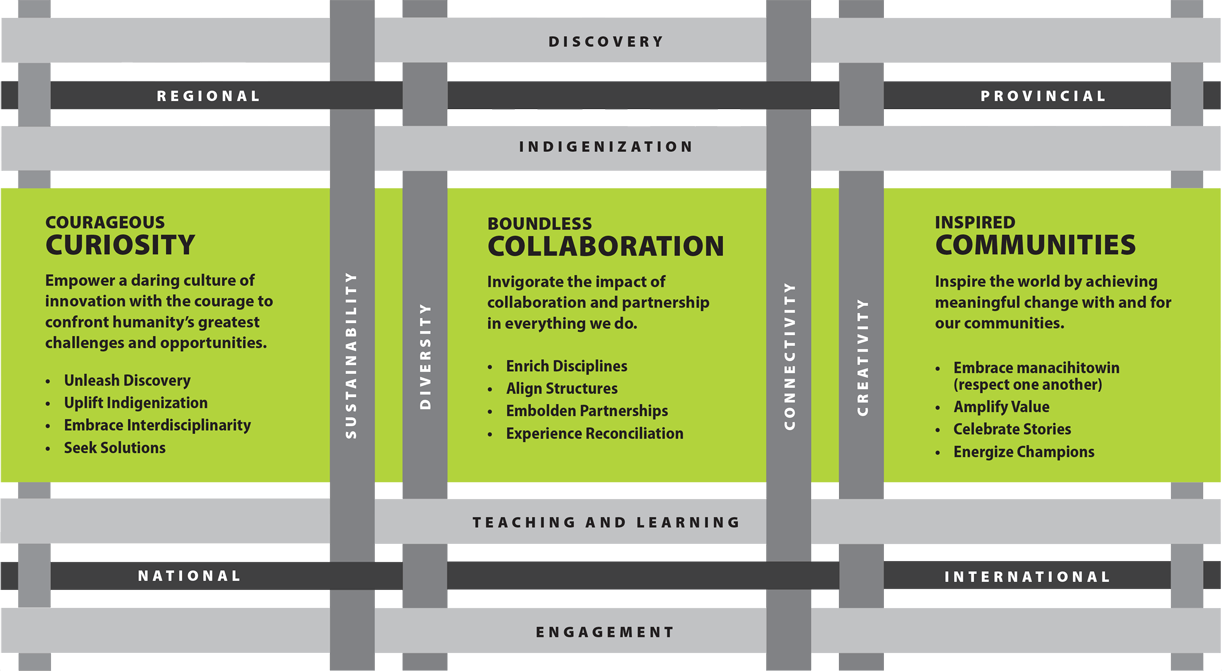 The University of Saskatchewan's four principles—sustainability, creativity, diversity and connectivity—lie at the heart of this plan and our aspiration to be the University the World Needs.
Our principles give truth, life and an enriched sense of mission to the spirit of our plan. As the embodiment of our principles, this plan represents who we are and what we can achieve—authentically, accountably and aspirationally—as a community of learners, scholars, staff and partners.
Cree and Michif language and concepts have brought depth, complexity and the unexpected to our understanding of the principles and commitments that will define our future. Our relationships with Indigenous communities have shaped and inspired our sense of identity, our conviction and our potential for impact.
nīkānītān manācihitowinihk | ni manachīhitoonaan ("Let us lead with respect") reflects the humility and boldness that inextricably define the University of Saskatchewan's spirit. Our university community aspires to lead "in a good way". Through this plan, we will bring the creativity and courage to pursue a more sustainable future—and we will instill the reverence for individual expression and identity to embrace humanity's complexity and realize this future connected in our diversity.
Through this plan—and through the spirit embodied in nīkānītān manācihitowinihk | ni manachīhitoonaan—the University of Saskatchewan will be the University the World Needs.