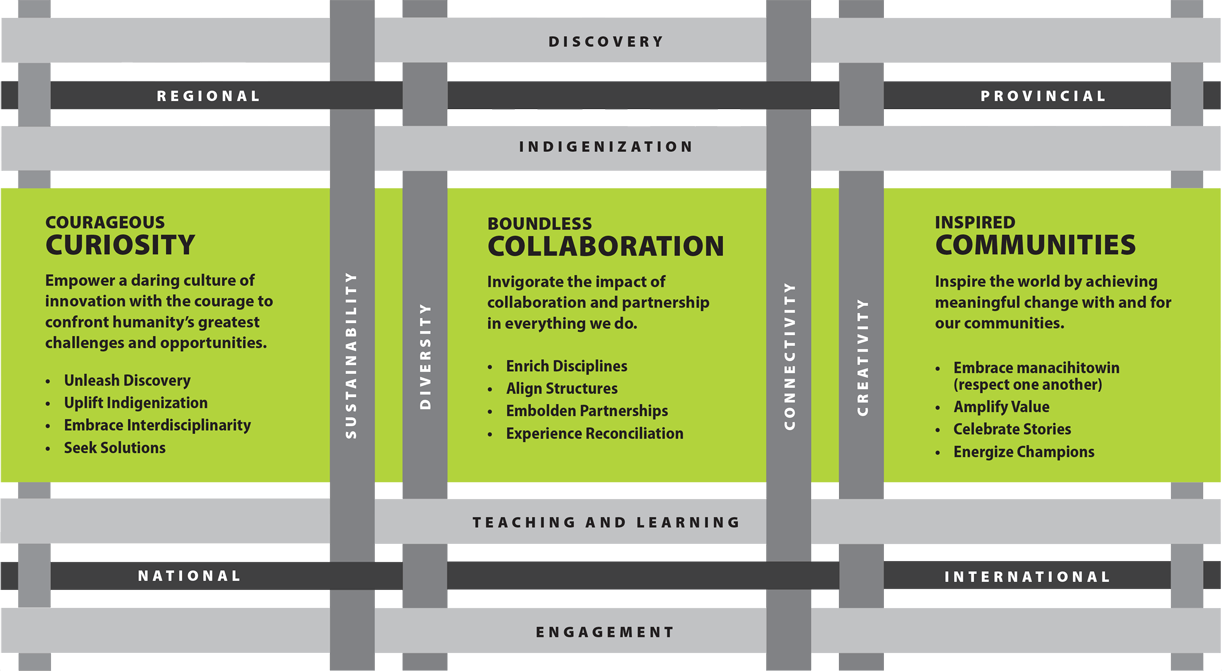 ---
The symbolism of our strategic framework as a tightly woven belt of fabric is highly intentional. Our strategy is at once strong and flexible—resilient in an era of global urgency and unprecedented social and technological change. Our strategy is multidimensional, true to the complexities and contradictions that inspire the creativity and generosity of great institutions. And our strategy is highly integrated, tying together our university's legacy, spirit, and future into a singular description of who we are and aspire to become.
The vertical threads capture our four principles—SUSTAINABILITY, DIVERSITY, CONNECTIVITY, CREATIVITY—as interpreted and discovered through the gift of Indigenous languages and teachings.
The lighter horizontal threads reinforce core elements of our mission: fostering interdisciplinary and collaborative approaches to DISCOVERY; uplifting the experience of INDIGENIZATION in our lives as students, educators, scholars, and citizens; preparing students for enriching careers and fulfilling lives as engaged global citizens through excellence in TEACHING AND LEARNING; and nurturing the innovative, accessible and welcoming spaces essential to meaningful ENGAGEMENT with our diverse communities.
The darker horizontal threads describe the scope of our vision and spirit of engagement: our special connections to the REGIONAL communities in which our students, faculty, and staff live and work; the unique and enduring PROVINCIAL partnerships that allow our university to contribute meaningfully to the social, cultural, and economic life of Saskatchewan; the distinguishing leadership, talent, and ideas our university brings to the NATIONAL stage as we work to create a brighter, more prosperous, and more sustainable future for Canada; and the INTERNATIONAL research, teaching, and community partnerships essential to our university's position as a globally relevant institution of higher learning.
Together, these interlaced threads give strength to the three COMMITMENTS and twelve GOALS that underpin the INTENT of this plan: to be the university the world needs. Our commitments and goals represent our contract with the communities and partners that give us purpose—an institutional promise to be better and do more, woven into the tapestry of history, identity, and vision that will stretch with us into our future.
If the weave is as true an expression of who we are and aim to become as we believe the weave to be—and if we are true to the spirit and substance of this strategic framework over the coming years—we are confident that we will be able to achieve the five ASPIRATIONS that will define the success of this plan in 2025: Transformative Reconciliation, Productive Collaboration, Meaningful Impact, Distinguished Learners, Global Recognition.